What is a morph? A morph, animated graphic or GIF
are formed into a series of two or more pictures that
are put together in a series of frames to generate
animation like the sample below of the black cat

This is the same technology that is used and
combined in today's top movies to make special
effects!

At Morph Dudes you have the chance to get a fully
customized morph graphic done by a professional
at a fraction of the cost. Use it on MySpace or wherever you like!
Morphs come in a variety of different shapes and
sizes. Some consist of two photos while others
consist of many more. Morphs are not limited to
humans or faces. People can morph their pets or
themselves into other animals or objects too. The
variety is endless to what you can do with a morph.
Just be creative and use your imagination.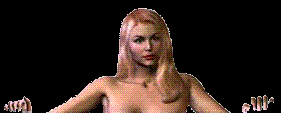 You may say "Morph dude, there are programs out there that will allow me to make my own morph, so why should I pay you?" The question you must ask yourself is do you want to purchase the expensive software? Do you want to spend 100's of hours learning how to morph? Morphing is extremely time consuming and complicated. A lot goes into being able to make a quality morph.

But fortunately, Morph dude has done countless morphs and has perfected it.

To view samples of Morph dude's work check out the gallery in the link on top